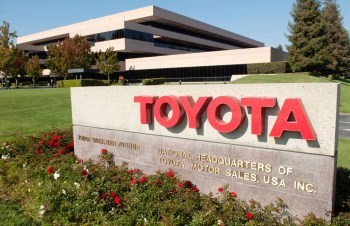 Toyota warns the world is far from ready to jettison gasoline and diesel engines and require batteries to run our replacements.
For Toyota, it is not just about finding enough critical battery material such as lithium, cobalt, and nickel. It is about having enough electricity in our power grid to recharge them.
Specifically, Toyota not only worries about our grid capacity today but in the future, when at least 30 times more electricity-powered cars and trucks are projected to be on the road.
Robert Wimmer, Toyota's head of energy and environmental research, testified last spring before the U.S. Senate warning of electricity supply problems.
"If we are to make dramatic progress in electrification, it will require overcoming tremendous challenges, including refueling infrastructure, battery availability, consumer acceptance, and affordability," PJMedia.com's Bryan Preston reported.
Wimmer's remarks came on the heels of GM's announcement that it will phase out all gas internal combustion engines by 2035. Other manufacturers, including Mini, have followed suit with similar announcements.
Based on a 2017 U.S. government study, Toyota calculates electricity supply and infrastructure are woefully inadequate. It found the need for 8,500 strategically-placed charging stations to support a fleet of seven million electric cars (EVs).
That's about six times the current number of electric cars. But no one is talking about supporting just seven million cars, Wimmer added. "We should be talking about powering about 300 million within the next 20 years."
Toyota isn't alone in serving up the reality check. Tesla's Elon Musk, who built his empire on EVs, agrees.
China currently has the most EVs on the road while California leads the U.S. China and California, which have large wind and solar farms, have grid overload and increasingly, people are losing electricity. It is likely to be far worse in the future.
Toyota's alarm is a good thing. Addressing the electricity shortfalls now, before our backs are against the wall, is even better.
Source: Toyota Warns We're Nowhere Near Ready To Jettison Gas-Powered Vehicles – Climate Change Dispatch
See also other posts about the dead end of EVs: 30 % more people dies from air pollution from a Tesla compared to a gas/diesel car – Energy Education