The following is a summary of the excellent paper entitled:" Wind energy in Germany and Europe Status, potentials and challenges for baseload application Part 1: Developments in Germany since 2010" by Dipl.-Ing. Thomas Linnemann Dipl.-Phys. Guido S. Vallana published in VGB PowerTech e.V. Essen, Germany, VGB PowerTech 8, 2017.
Wind power is a cornerstone of rebuilding the electricity supply system completely into a renewable system in Germany. However despite that the installed capacity of on- and offshore wind power increased from 2010 to 2016 to about 50,000MW (92% onshore, 8% offshore), i.e. 85 %, the minimum value increased by only 20% to a mere 0.3% of the installed capacity, Figure 1. Comparing the data for 2010 to 2016:
The maximum power, PMAX related to installed capacity, PN, decreased from 80% to 66%.
The increase in minimum power, PMin increased with only 20% while that of the installed capacity increased with 85%
The minimum PMin / PN, varied (per year) from 0.01% to 0.4 %
Thus, In every year since 2010 there was always at least one quarter of an hour in which more than 99.6% of the installed capacity of the German wind fleet was not available and a requirement for 100% dispatchable backup capacity (from e.g. nuclear, coal, biomass, natural gas) prevailed, although its installed capacity had almost doubled at the same time.
Contrary to statements claiming that offshore wind power basically can be a source of baseload electricity and can replace conventional power plant output, the power output of the offshore wind fleet fell to 1% of its installed capacity or less in 2016. Such weak wind phases thus occurred in 2016 with an average of five times a week.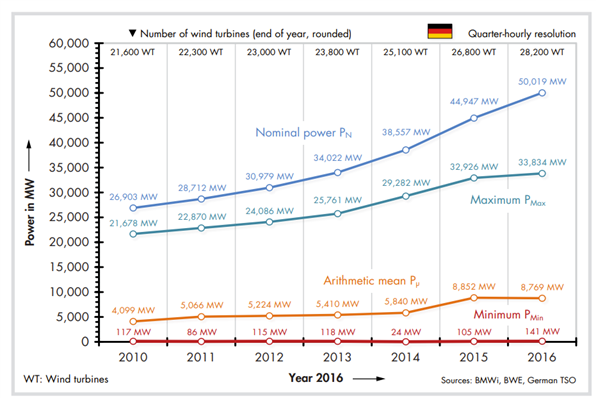 The amount of electricity fed into the electricity grid must always be equal to the amount of electricity consumed, otherwise there's a black-out[1]. Blackouts can happen when there's too much demand or too little.
Dispatchable[2] backup is necessary to maintain a stable balance between temporal variations of outputs from wind turbines and other power plants fed into the power grid and consumer-driven temporal demand variations extracting power from the grid. For grid stability, a secured capacity of power plants (coal, gas, nuclear) for backup purposes of currently about 84,000MW is required in Germany at the time of annual peak load.
A comparison of long-term data on the capacity factor of the German wind fleet since 1990 (F i g u r e 2 ) shows that the long-term average of the German wind fleet reports a capacity factor of 16.9 % and that from 2010 to 2016 capacity factors reached an average of about 18%.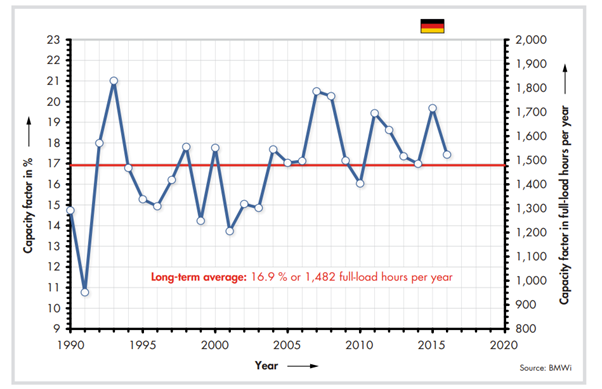 In December 2016 two periods with weak wind occurred with power outputs of less than about 5,000MW (10% of installed capacity), Figure 3:
One from 3 to 6 December 2016 (four days) and one from 12 to 20 December 2016 (nine days).
In the night of 18 to 19 December, the total electric power output of the wind fleet fell to a minimal value of 0.8% of the installed capacity.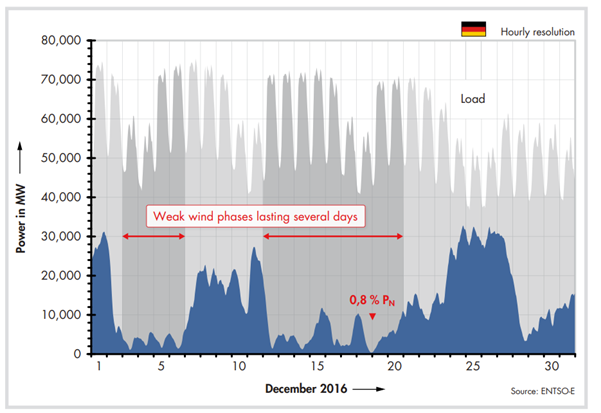 ---
Conclusions:
Despite large additions to the wind fleet from 2010 to 2016 throughout Germany, no increase can be seen in the annual minimum values, Figure 1.
In 2016, the minimum wind energy production was less than 150 MW or 0.3 % of the installed German wind fleet energy capacity.
From the viewpoint of security of supply, so far wind power in Germany has replaced conventional power plant output of no more than 150 MW.
In terms of the stability of the electricity grid in Germany, a power plant capacity of about 77,000 to 82,000MW is required at the time of the annual peak load
[1] A blackout is a total crash of the power grid due to an imbalance between power generation and power consumption while a selective power cut is a controlled shutdown of the power supply in a given area, so as to avoid a blackout.
[2] A dispatchable source of electricity refers to an electrical power system, such as a power plant, that can be turned on or off.
Reference: VGB PowerTech 8 (2017)