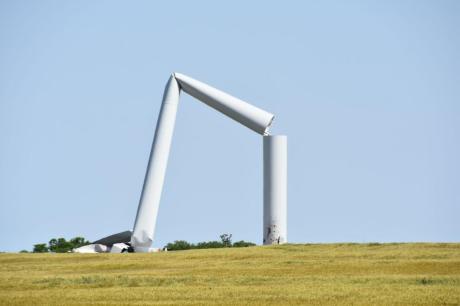 Germany's wind industry is now demolishing wind turbines faster than it can build them. During 2020, the Germans managed to add a paltry 200 new wind turbines to its fleet of over 30,000. Meanwhile, hundreds have already been demolished and – with hundreds more reaching the end of their economic life – the only growth area in Germany's renewable energy sector will soon be demolishing them, recycling any metals worth keeping and burying their toxic fragments – including thousands of 10-12 tonne blades – in landfills overseas (probably somewhere in Africa). In short, the seemingly endless growth in Germany's wind power capacity has hit the wall.
Another signal that the German Energiewende (transition to green energies) is not working out, are actions and comments recently coming from the German Ministry of Food and Agriculture, as reported 2 days ago:
Emergency plan for the food supply.
Berlin. The Federal Government and the states have agreed on an emergency plan for securing the food supply, according to information from Federal Agriculture Minister Julia Klöckner (CDU). As an example for a supply crisis she named a 'massive power outage", she told in an interview with this newspaper.
Read more: Game Over: German Wind Industry In Free Fall As Renewable Energy 'Transition' Hits the Wall – STOP THESE THINGS