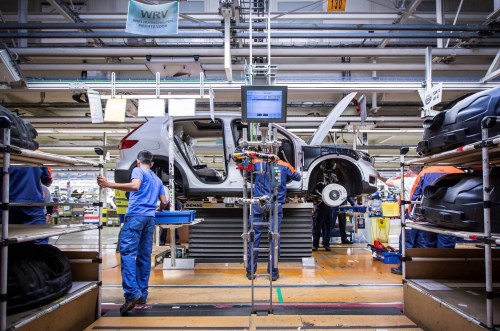 Volvo has said that emissions from the production of electric cars are far higher than a petrol equivalent, as it called on world leaders and energy providers to significantly boost investments in green energy to reduce the carbon footprint of plug-in models.
It shows that greenhouse gas emissions during the production of the electric vehicle are nearly 70 percent higher than a petrol model, which is mainly due to the carbon intensity of battery and steel production, as well as from the increased share of aluminum in the plug-in car.
But Volvo said as an EV (Electric Vehicle) the C40 Recharge has a far lower carbon footprint than its comparable petrol version during the 'use phase', though suggests it would take a prolonged period of ownership before it offsets its higher emissions from production.
However, when drivers charge their C40 Recharge using an average global energy mix (which is generated for around 60 percent from fossil fuels), the car's lifecycle CO2 tonnage can increase to as much as 50 tonnes, significantly reducing the environmental gains versus a traditionally powered car.
Volvo estimated that an electric Volvo C40 needs to be driven around 68,400 miles (110,000km) to have a lower total carbon footprint than its petrol equivalent if the former is powered by the current global electricity mix.
Based on the latest UK driving statistics, the average annual mileage is 7,400 miles. That means it could take nine years of ownership before the EV is greener than a car with an internal combustion engine, Volvo suggests.
Source: Volvo Says CO2 Emissions From Making EVs 70% Higher Than Gas Vehicles – Climate Change Dispatch
However, if the owner of the EV sells the car before nine years, and buys e.g. another EV, the EV is actually worse for the environment than a petrol car. Since most car owners buys a car before the old one is 9 years, the EV are worse for the environment than petrol cars (comment by Peter Rudling)