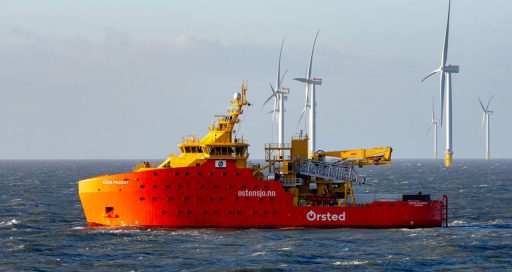 Lower wind speeds and cable problems hit first-quarter earnings at Denmark's Orsted, sending shares in the world's biggest offshore wind farm developer lower on Thursday.
The Danish offshore wind giant, Ørsted, has released its Interim Financial Report for the first quarter of 2021, and has revealed that up to ten of their European and UK wind farms are suffering from significant damage to connection cables. Repairs are currently estimated to cost in the region of 3 billion Danish Kroner (£350m) over the period 2021 to 2023.
The problem has arisen because turbines are frequently surrounded with large rocks designed to prevent erosion of the seabed and weakening of the turbine foundations. This "scour protection" is, in Ørsted's own words, "abrading the Cable Protection System and in the worst-case scenario causing the cables to fail."
In one sense, though, the announcement is no surprise. As long ago as 2019 industry press sources were reporting that 90% of European wind farms had experienced significant problems with their cable connections, with one article in reNews in 2019 reporting that "a growing chorus of voices is blaming the relentless drive to force down costs". Whether this is the case for Ørsted we cannot say, but investors will doubtless be asking precisely this question.
Read more at: Offshore Wind Power All at Sea: Danish Wind Farm Operator Suffers Massive Financial Losses – STOP THESE THINGS