Licence issued for indigenous plants, which could be in operation by end of 2026, Ref. 1.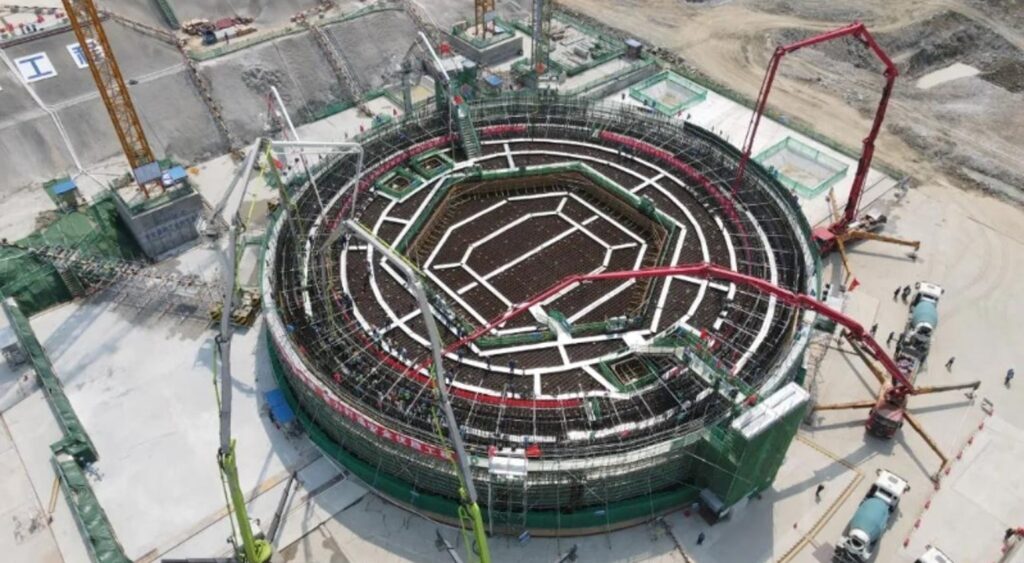 Construction has begun in China of two indigenous Hualong One nuclear power plants at the Changjiang nuclear station in the island province of Hainan off the country's southeast coast, China National Nuclear Corporation (CNNC).
The Hualong One, or HPR1000, is a three-loop Generation III pressurised water reactor. There are eight Hualong One units at various stages of construction or operation in China. There isalso a Hualong One unit, Kanupp-2, nearing commercial operation in Pakistan and another, Kanupp-3, under construction. These are the first of their type outside China. The company said the licence from the National Nuclear Safety Administration meant construction had officially begun with a commercial operation date for both units scheduled in 2026, i.e. building time of 5 years for both units.
Unconfirmed press reports in China have put the total investment for the two new units at more than USD 6 billion, i.e. USD 3 billion per unit corresponding to a capital cost of USD 3,000/kW per unit, see fig. below. This cost is about 30% of the capital cost to build Olkiluoto 3 in Finland. The building time for both Chinese units is scheduled for 5 years while Olkiluoto 3 will take about 17 years to complete.
The main reasons that Chinese, Russian and Korean are building reactors on time and on budget, contrary to the new reactors being build in Europe and USA are primarely because (Ref. 2):
The reactors being built in Europe and USA are done by companies that as not built reactors for 30 years while the China, Russians and the Koreans are building reactors all the time by experienced companies and
The Chinese, Russian and Korean reactor contructions were already completed and approved by the safety authorities before the construction started contrary to the reactors being built in Europe and USA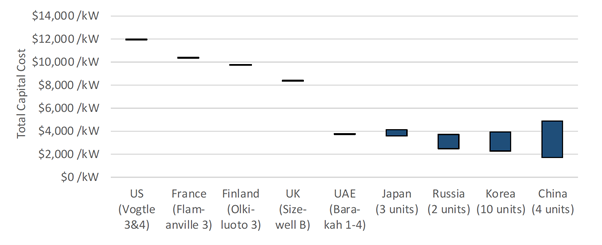 Low building costs and short building times were also experienced in the UK, US, France, and Sweden during the height of new build programmes in the 1960s through 1980s, when 30 to 40 reactor construction started each year compared to the 4-5 reactor construction starts today. During the peak of contruction of new reactors, 18 reactors were completed in 3 years, 12 of those in Japan, 3 in the USA, 2 in Russia and 1 in Switzerland, Ref. 3.
The reactor building cost by US and European reactor construction companies is expected to drop to USD 7,000/kW in the future, Ref. 1.
The bottom line is that construction costs of new reactors are very competitive and actually less compared to construction costs of wind energy.
Reference:
Construction Officially Begins Of Two New Hualong One Reactors At Changjiang :: The Independent Global Nuclear News Agency (nucnet.org)
https://d2umxnkyjne36n.cloudfront.net/documents/D7.3-ETI-Nuclear-Cost-Drivers-Summary-Report_April-20.pdf